At ARRTI we offer instruction in formats that enable and encourage students at KIT to critically reflect on ethical questions related to their fields of study. In doing so we seek to lay the groundwork for responsible action in future professional environments. Our teaching programs are interdisciplinary and include co-teaching formats in cooperation with various KIT study programs. We also work together with the KIT House of Competence (HoC) and the Zentrum für angewandte Kulturwissenschaften und Studium Generale (ZAK) to make our courses available to a broad student audience. In all our teaching we emphasize student engagement as a central didactic element, meaning that students actively participate in the development, testing, and evaluation of innovative teaching formats and content.
We critically reflect on and evaluate our teaching programs in order to continually advance our didactic knowledge. We also present these systematically developed insights to a research community interested in didactic questions in workshops, conferences and scientific publications.
Winter term has started
ARRTI offers courses for students and an interested public every semester. Among them are own lectures, seminars and workshops. Participation is usually open. Some events are cooperations with other institutes and ARRTI is involved for example in the form of co-teaching. Participation is then often bound to the conditions of the cooperating institute.
Our full range of courses can be found on the page linked below.
more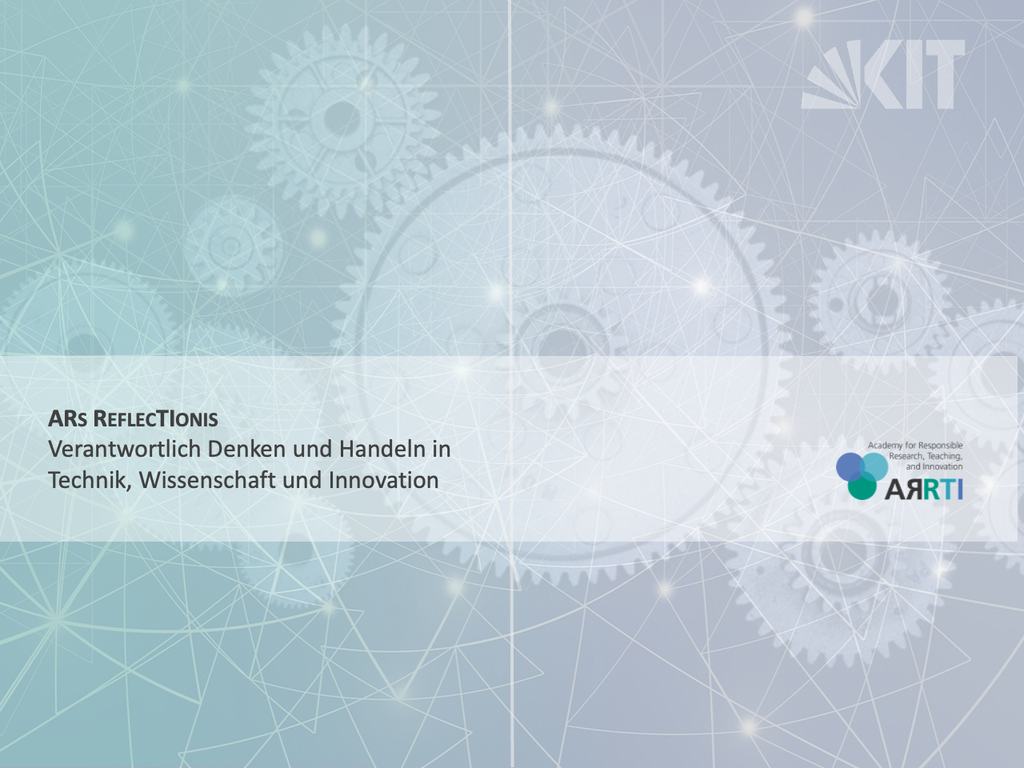 Ethik-Onlinekurs zum Selbststudium gestartet
"ARs ReflecTIonis. Verantwortlich denken und handeln in Technik, Wissenschaft und Innovation", der modulare ARRTI-Onlinekurs, startet. Er vereint studienbereichsspezifische Komponenten zu konkreten Fragen der Verantwortungsübernahme und allgemeine Komponenten zu normativer Argumentation und Grundlagen der (Technik-, Wissenschafts- und Wirtschafts-) Ethik. Er wird von ARRTI kontinuierlich weiterentwickelt und in Kooperation mit dem House of Competence (HoC) angeboten. Als Schlüsselqualifikation kann er von allen Studierenden am KIT seit dem 1. Juni belegt werden.
more
Co-Teaching
In this downloadable flyer you can find an overview about our co-teaching offer.
Download
Events
A complete overview of all our events can be found here.